Vol 44 | Num 16 | Aug 14, 2019

Article by Capt. Franky Pettolina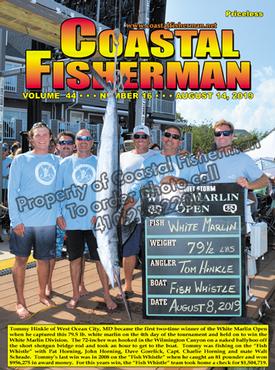 I woke up to my head feeling hot and damp against the pillow. I had fallen asleep with my hand up against my cheek. Having been out earlier for a night of cocktails at Carlos and Charlies in downtown Cancun, I was not overly surprised by this situation. After I got out of my bunk and went to the head (for you landlubbers, that's what we boating folks call the bathroom) and looked in the mirror I changed my opinion on not being surprised. The side of my head was what pro wrestling announcers refer to as a crimson mask! I was covered in blood!

Rewind the video back to that afternoon and I was in the middle of a hot sailfish bite out in front of Isla Mujeres. We were hooked up to a multiple. I think it was a triple header. As the first wind-on leader was coming to the rod tip I reached out for it and took a couple of wraps and held on tight. The sailfish was not fond of this and went airborne, flipping end over end a couple of times. The leader snapped close to the hook between the ball bearing swivel and the fish. The 60 lb. monofilament leader had a bit of stretch to it and I was hit by the swivel as it came flying back towards the boat. This is what is referred to as a snap back. The swivel hit my gloved hand and actually pierced the material and nicked and bruised my middle finger on my right hand. A few short moments later my finger was swollen up to twice its normal size. There was no time for licking my wounds as we still had a couple of sails on and there were plenty more out there to catch for the day.

After we got in that night, my Mexican deckhand Carlos cleaned up the boat and I prepped baits for the following day. Once those chores were complete I took a quick shower and set out for a night on the town. Put fifty American boats in a hopping resort destination during the high vacation season and there was always fun to be had! After several cold Dos Equis lagers and a tequila slammer or three, my swollen finger didn't bother me near as much.

Well not until several hours later that is, when it had swollen enough that the skin split and made the mess I was referring to earlier. I cleaned myself up and put the pillow case and the sheets into the wash. One interesting thing about boats is that the mattresses on the stateroom bunks are usually odd shapes. This is especially true in the custom sport fish world. Odd shaped mattresses call for odd shaped sheets. Bed Bath and Beyond doesn't have a section labeled "boat sized" in between twin and full on the shelves either, so this makes for custom sheets for each stateroom. Even though my blood was well thinned by cervezas and tequila I can tell you, unfortunately, that blood on light colored sheets doesn't wash completely away. I received a stern tongue lashing from my captain on this matter the following day when he performed a stateroom inspection to make sure that I was keeping my quarters ship shape!
Even worse was a few days later when, even with my best efforts at keeping the wound clean, a nasty infection set in. Not uncommon in our line of work, but still not pleasant, I had a case of fish poisoning. It took a few trips to the local farmacia to finally beat the infection and keep my middle finger from being amputated. Not how I wanted to spend my evenings in Cancun, that is for sure!

I was reminded of this life experience yesterday when I saw a picture of Jake Graves, the mate on the charterboat "Reel Chaos", on social media. He was having a great day catching white marlin during the White Marlin Open when he received a dreaded snap back. His was worse than mine from years ago in that the snap swivel on the leader actually imbedded itself in his finger. The glove had to be cut off of his hand and the swivel carefully removed from his flesh. OUCH!!!

The good news in his story was that he was using proper technique and keeping his hands low to his body. This is something every leader man should know, but I see plenty of instances where mates are holding their hands high while holding the leader. This is a big no no! If the swivel, or worse yet a hook, should come flying back at you, its trajectory will be your face. With hands held low the projectile will find its way to your body, or your gloved hand, most of the time. I would rather take a welt or cut to my chest than a swivel in my eye any day of the week. Although there was one time that a hook came out of a mahi's mouth and found its way into my left nostril. Today that would be a fashion statement of some sort I imagine. Back in the 90s my Mom was having none of it and made sure that Dad cut the hook out immediately.

Hope the hand feels better soon Jake! Keep on catching them buddy!

Capt Franky Pettolina is Co-Captain of the charter boat, "Last Call", owner of Pettolina Marine Surveying, Inc. and multi-term President of the Ocean City Marlin Club. If you would like to book a charter on the "Last Call", please call 443-783-3699 or 410-251-0575.