Ocean City Fishing Report
Article by Larry Jock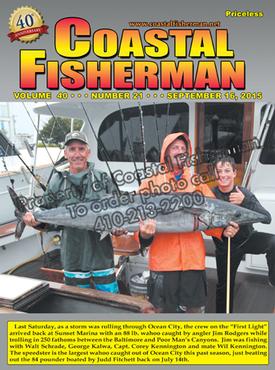 Well, unfortunately I could write the last fishing report of the season on a matchbook cover. Fishing in the bay continues to be dismal and weather conditions kept most offshore anglers at the dock on many days. The inshore structure bite continues to be the bright spot, and quite frankly, seems to be something that will only get better in future years as the Ocean City Reef Foundation's reef system expands. Enough positive comments cannot be said about the Reef Foundation along with Capt. Monty Hawkins and mates Wes Pollit and Dan Iacangelo on the headboat, "Morning Star". Those guys put a lot of time, effort and money into dropping material on ocean bottom, something that is guaranteed to benefit many, many anglers in the future. A simple $50 donation to join the Reef Foundation is well worth it and will help the group continue their good work.

Flounder

Like I said, the flounder bite in the bay has not been good for several weeks. However, the bite over the weekend wasn't on life support, but it was close. Anglers reported a bunch of fish being caught, but unfortunately 99% of them were in the 14 to 15-inch range. Those fishing in the Thorofare, East Channel and in the West Channel, both north and south of the Rt. 50 Bridge seemed to get the most bites over the weekend.

The flounder action on ocean structure is an entirely different story. It just keeps chugging along with excellent bites at the Old Grounds (off Indian River Inlet), at the African Queen, Bass Grounds and Russell's Reef. Headboats "Morning Star" and "Angler" have been burning them up with anglers dropping strips of mahi belly and flounder belly getting the best results. The charter boat, "Fish Bound" returned several times last week with boat limits of fish up to 25-inches and 6 lbs. Nice fat fish!

Striped Bass & Bluefish

Doug Maguire at Talbot Street Bait & Tackle reported an excellent snapper bluefish and short striper bite during the evening around the Rt. 50 Bridge. In the East Channel, just off the Angler Restaurant stripers and bluefish could be found busting through schools of shiners.

Mahi

When it comes to offshore fishing, the mahi bite continues to be the star of the show. Most of the boats that headed out to the Baltimore Canyon throughout the week and the Poor Man's Canyon over the weekend returned with good catches of bailers with a few gaffers mixed in. Both were caught primarily on the troll, but several boats reported having a blast casting cut bait on spinning reels.

Wahoo

On Saturday, Jim Rodgers on the "First Light" boated the largest wahoo of the year, an 88 pounder while trolling in 250 fathoms between the Baltimore and Poor Man's Canyon

Billfish

Bad weather put a damper on the billfish scene last week. Before the seas became too snotty, the "Miss Annie" took an overnight trip to south of the Norfolk Canyon and released 17 white marlin and a blue marlin. The "Makara" also ventured down to around the same area and had a super trip, releasing 17 white marlin, 2 spearfish and a sailfish. The following day, the "Seaflame" went 5 for 5 on white marlin in the Baltimore.

Upcoming Tournament

On September 18th and 19th, the 37th Annual Ocean City Marlin Club Challenge Cup will be held pitting Ocean City anglers against those coming down from Cape May, NJ. The visitors have won the last 3 Challenge Cups, so hopefully this is the year for our local boats. Best of luck to all participants.

Thanks!

Since this is the last issue of the season, I wanted to take some space to thank everyone who made it a great one.

Working 7-days a week from May through September can be difficult and not for everyone, but I am fortunate to have a great team that takes a lot of pride in the Coastal Fisherman. Our artist, Tom Jock, Office Manager and Food Columnist, Maureen Jock, Vice-President of Everything, Larry Jock, Sr., my wife Mary, son Larry III and our Sales Representative, Kendra Maccari all work extremely hard for our advertisers and readers and I am very fortunate to have such a dedicated team.

A big thank you goes out to our columnists. We started out the season on a very sad note with the passing of tackle shop owner and longtime columnist, Sue Foster, but Mark Sampson, Steve Katz, Julie Ball and rookie, Lance Smith all did a wonderful job providing our readers with informative and entertaining columns each week. Trust me, it isn't easy coming up with a topic every week and I give them a lot of credit for the job they do. It's always nice to hear from readers how much they enjoy the columns in the Coastal Fisherman. It's a tough job and our writers do it extremely well!

Thanks also go out to all the dockhands and mates who help get the photographs set-up after the boats arrive back at the marinas. Getting a nice photograph set-up of anglers with 50 bailer dolphin is tedious and definitely not glamorous, but the dockhands are always there to get the job done and I really appreciate the job that they do.

I want to thank all of our readers who have to be the most loyal and appreciative folks I have ever seen in my newspaper career. Their positive comments really make our day and I know my Mom always loves it when folks come into the office and tell her how much they love her recipes.

Finally, thank you to our advertisers who make the Coastal Fisherman a reality each season. Being a "Priceless" publication, the advertising revenue pays the bills and I truly hope that our readers recognize this and patronize our advertisers every chance they can. This will keep the fishing community alive and well for our generation and those that will follow.

It looks like there is still plenty of good fishing ahead of us this year. We know that the flounder bite on reefs and wrecks should continue running strong and black sea bass action looks like it is starting to improve. The epic bluefish run we experienced in the spring has anglers wondering if we will see similar action in the fall, something we haven't seen in many years. Will we see a shot of yellowfin in the canyons this year like we have seen in the past? Right now, it doesn't look promising, but hopefully the billfish bite will pick-up and everyone will be chasing white and blue marlin. Finally, will the effects of El Nino create outstanding fall striper fishing like it did a few years ago? Although we can only keep 1 striper per person/trip until December 31st, we should return to our "normal" 2-fish creel on January 1st.

For those of you who enjoy hunting, keep an eye out for the next Coastal Hunter that will hit the streets on October 1st. If you have any pictures of harvests made since January 1st, you can email them to coastalhunter@comcast.net.

I hope everyone has a wonderful and safe rest of the season. Our next issue of the Coastal Fisherman will come out on January 1st and should be chock full of pictures from now through December. If you don't live on the coast, you will be able to pick up our Winter Issue at boat/outdoor shows in Baltimore, Harrisburg, Atlantic City, Ocean City and several smaller regional shows.

Thanks again to everyone! The "Paperboy", with it's orange motors, courtesy of East Coast Performance, should be in the water next week and will soon be pointed towards the reefs and wrecks, hoping for that 10 lb. flounder. I am really looking forward to a great striped bass run later this year. Hopefully, this will be the year I break the 40 lb. mark. That picture might actually make it in the next Coastal Fisherman!