Ocean City Fishing Report
Article by Larry Jock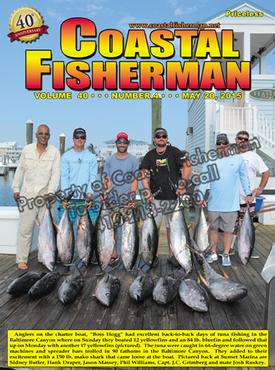 How nice is it to see the 2015 fishing season finally kicking into gear? Striped bass, flounder, bluefish, sea bass, cod, yellowfins and sharks. We had them all!

Striped Bass

Big stripers cruising into the Ocean City Inlet early Thursday evening had anglers scurrying to their boats to get in on the bite that ended up lasting only a couple of hours. The fish were big, in the 40 to 45-inch class, and were seen rolling on top chasing schools of bunker. Tossed Rat-L-Traps and bucktails did the trick. The charter boat, "Lucky Break" was one of the first on the scene and caught 3 stripers with fish up to 30 lbs. Anglers on the "Happy Hooker" also had a good trip, ending up with 5 stripers up to 41.5 lbs. Their smallest fish measured 38-inches with the rest being over 40-inches.

By the next morning, the stripers were out of the Inlet but it appears that a few stragglers were left behind, which was a good thing for Chuck Wenzel who landed a 48-incher on Sunday while flounder fishing in the East Channel, south of the Rt. 50 Bridge. The old saying goes, "Elephants eat peanuts" and this was the case with Chuck's big linesider that was hooked on a 1/2 oz. jig head tipped with a 4-inch Gulp! Swimming Mullet. It took Chuck 20-minutes to land the fish.

The largest striper we have seen caught this year came in on Saturday when Phillip Gray stopped by the office to have his picture taken with the 50-inch striper he caught while soaking cut bunker from the beach in mid-town Ocean City. Phillip's fish weighed 42 lbs. 8 oz. and was caught at 2:00 PM during the incoming tide.

Although lures and fresh bunker fooled most of the linesiders last week, we did see a couple of nice stripers caught on Friday by J.L. Cropper while fishing with peeler crabs at the mouth of the Inlet. J.L's largest fish measured 45-inches.

Since then, anglers have been catching quite a few short stripers around the Rt. 50 Bridge.

Bluefish

Chopper bluefish were caught all week by anglers fishing around the Rt. 50 Bridge. With water temperatures threatening the 60-degree mark, conditions are right and we have seen an epic bluefish run for the last several weeks. In addition to being found around the bridge pilings, both choppers and snappers were caught regularly in shallow water just north of the Rt. 50 Bridge and in the Fish Bowl, located north of the Bridge between the East and West Channels.

On Thursday, while fishing on the "PitBoss", Matt Peel captured a 13 lb. 9 oz. slammer around the island south of the Rt. 50 Bridge.

Metal lures and bucktails did the trick last week with action so fast and furious at times that anglers didn't even bother to tip their bucktails with any type of artificial bait.

Yellowfin Tuna

With a nice shot of water in the Wilmington Canyon on Friday, boats out of Indian River headed out to 66 degree water where they found yellowfins in the 45 to 70 lb. class. Local boat, "MateTrix II" decided to go to the Baltimore Canyon on Friday where they went 6 for 9 on yellowfins in 120 fathoms where the captain found a 64 to 66-degree temperature break.
On Saturday, a few boats headed back to the Wilmington Canyon in search of yellowfins, but many struck out. The "Sea Prowler" did return with 4 yellowfins caught in 300 fathoms where they found water temperatures between 68 and 70-degrees.

On Sunday, the charter boat, "Boss Hogg" went to the Baltimore Canyon and caught 12 yellowfins weighing up to 55 lbs. and an 84 lb. bluefin. They also caught some bonitos during their trip. Capt. Brian Porter found a 62 to 66-degree temperature break and found the fish on the cold side in 65 fathoms. The bite occurred between 10:00 AM and 2:30 PM.

Sea Bass & Cod

With the opening of Maryland's sea bass season on May 15th, numerous boats were seen heading to ocean reefs and wrecks.

The Great Eastern Reef was a top producer over the weekend with several boats coming back with incredible catches. On Friday, the "Jezebel" returned with 102 sea bass in the cooler along with 7 cod. Clams and squid were used for bait. The charter boat, "Fish Bound" also had a good day, with 110 sea bass weighing up to 4 lbs. They also boated 6 tautog and 10 cod during their trip. Also on Friday, the headboat, "Angler" had sea bass up to 4 lbs. and cod up to 7 lbs. while fishing with squid and clams at a natural reef.

It's funny how fishing is though. Anglers headed back out on Saturday, many to the same location, and the fish just weren't snapping.

The headboat, "Judy V" out of Indian River reported that their anglers had luck catching flounder on coral bottom, so if you enjoy flounder fishing in the ocean, now may be the time to go.

Sharks

On Friday, we heard that a large mako shark was caught in 40 fathoms at the tip of the Baltimore Canyon, but we haven't seen any concrete evidence of the catch.

Also on Friday, a group of anglers arrived at Sunset Marina with a thresher shark, estimated at around 250 lbs. The shark was caught at the Sausages while the group was trolling for bluefish in 57-degree water.

In the Surf

It has been a rough spring for striper fisherman soaking bunker in the suds, but on Thursday stripers were migrating up the coast and surf fishermen were able to land several over 40-inches. Action was not limited to Assateague late this week, as we highlighted the 50-incher caught on Saturday from the beach in mid-town Ocean City. Fresh bunker is always a top bait for big, springtime linesiders but if you can get peeler crabs you may find them to work even better.

Upcoming Tournaments

This weekend is the first local tournament of the year. The 6th Annual Ocean City Marlin Club Memorial Day Tournament will be held on Saturday and Sunday, May 23rd and 24th. The club has made some changes this year, adding calcutta categories for tuna and mako sharks. This tournament used to be a bluefish only tournament, which in a typical year, made it tough for anglers. This year, with big bluefish still being caught, yellowfins and bluefins in the canyons and sharks on the inshore lumps, this could be one exciting tournament. Weigh-ins are at Sunset Marina from 4:00 PM to 6:30 PM.

See you at the scales!