Ocean City Fishing Report
Article by Larry Jock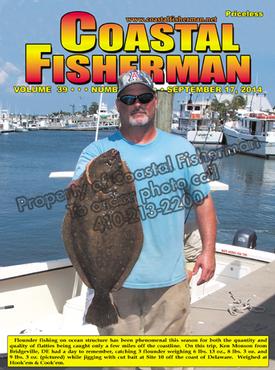 Last week was a rough one for fishing in Ocean City. The weather was downright lousy, keeping most anglers at the dock.

We did get some good news on Thursday when it was announced that the black sea bass season would be extended for a couple of days until September 21st. Hey, it's not much, but we rarely get good news from the government, so we'll take it.

Thursday was really the first day that boats could head offshore and most returned with good catches of dolphin and a few white marlin releases from the Washington Canyon.

Friday's forecast called for rough seas, forcing the Marlin Club to postpone fishing on the 1st day of the Challenge Cup, pitting our anglers against those from the Cape May (NJ) Marlin and Tuna Club, essentially turning it into a 1-day shootout on Saturday.

Unfortunately, for the 3rd straight year, the Cape May team came out on top with their top 6 boats recording 27 white marlin releases versus Ocean City's 11 white marlin and 2 blue marlin releases. All of the action was above the Washington Canyon in 60 fathoms.

The good news is that a few yellowfins were also caught on Saturday in the Washington Canyon, something we haven't seen in some time. Hopefully, we still have a shot at another good yellowfin bite before the end of the season.

In the bay, flounder fishing was tough with dirty water conditions frustrating anglers all week. You know the wind is whipping when we have whitecaps in the bay. Anglers fishing around the Rt. 50 Bridge continue to find a few stripers and bluefish lurking around the pilings. We also heard of a few flatties caught by anglers fishing with live spot around the bridge, in the Fishbowl and in the West Channel.

Due to the bad weather, we didn't see many boats heading to ocean wrecks and reefs during the week, but on Saturday, the headboat, "Morning Star" was able to break the Inlet and returned with several limits of sea bass for anglers dropping squid and clams. Not only did they have a lot of sea bass, something we haven't seen much this past season, but the largest knothead weighed in at 5 lbs. 5 oz. With sea bass season open until the 21st, now is the time to jump on the action and book your spot on the rail. If you can't get out before the 21st, the sea bass season will reopen on October 18th.

This is the last issue of the Coastal Fisherman for the 2014 season. As usual, it was a fast summer and we saw a lot of nice fish arrive at the dock, including several new state records. Although we saw a lot of memorable catches, the 131 lb. wahoo caught by John Scharr back in July is a record that probably won't be broken anytime soon, and in my opinion, would be a top candidate for "Catch of the Year".

I would like to take this opportunity to thank all of the people who make it possible to bring you the Coastal Fisherman each week.

First, a big thank you to our advertisers for their support this season. Some of them have been with us for decades and new ones continue to join us every year. Since we do not charge for the newspaper (remember, we are "priceless"), without our advertisers there couldn't be a Coastal Fisherman and we sincerely hope that our readers make a special effort to give them their support. Sure, it is easy to purchase items over the internet, but please remember that it is the local Ocean City marinas and businesses that keep the fishing community alive and well. They really deserve as much support as we can possibly give them!

A special "thank you" goes out to our columnists, Sue Foster, Mark Sampson, Steve Katz, Julie Ball and others who provided quality columns for our readers to enjoy. People don't realize how much commitment and dedication goes into writing a column every week, having to hit a deadline when all of their "real" work is piling up. I sincerely appreciate their contributions.

I would really like to thank all of the dockhands and mates who assist me every day when boats arrive back at the dock and memorable pictures need to be taken. Trust me, lining up fish on the dock is not a glamorous part of the job and the dockhands and mates are always there to handle the task. I truly appreciate their hard work and assistance.

The Coastal Fisherman is a family affair and I would be lost without the team that puts out the paper every week. My brother, Tom, my parents, Maureen and Larry, my wife, Mary, my son, Larry III and honorary Jock family member and independent sales representative, Kendra Maccari are really the unsung heroes who do an incredible job each and every week. Working every day from May through September is not an easy task and I am blessed to have a very hard working and dedicated team.

Finally, thanks go out to our readers. Every year I marvel at their loyalty to the Coastal Fisherman, and their positive comments throughout the season are appreciated very much. I know that my Mom loves it when folks peek their head in the office just to tell her how much they love her recipes!

I hope everyone has a safe and successful rest of the season. Our next Coastal Fisherman will come out on January 1st and for those who live outside of Ocean City, you will be able to pick-up a copy at shows in Harrisburg, Atlantic City, Baltimore and a few smaller, regional boating and outdoor shows.

For the hunters out there, we will come out with our Coastal Hunter on October 1st and February 1st. If you have a picture from your hunt, you can email it to me at coastalfisherman.net.

Thanks again to everyone! This "Paperboy" is off to the wrecks looking for flatties and waiting for linesiders to show up in the fall.