Vol 41 | Num 3 | May 18, 2016

Ocean City Fishing Report
Article by Larry Jock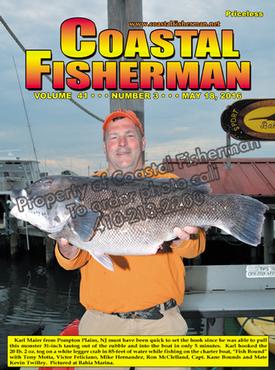 It was another week of crazy spring weather on Delmarva. The sun popped out on Saturday which got boats out on the water and surfcasters in the suds.

Tautog fishing has been excellent, highlighted by the monster 20 lb. 2 oz. fish caught early in the week by Karl Maier on the charter boat, "Fish Bound". Karl has to be an experienced tautog fisherman because it only took him 5 minutes to get the fish in the boat after hooking it on a white legger crab on a wreck in 80-feet of water.

Throughout the week, charter and headboats returned with limits around the rail for anglers dropping green crabs and white leggers on ocean structure. Russell's Reef, Sue's Reef and Winter Quarter Shoal all produced some nice catches of blackfish.

The black sea bass season opened on Sunday, May 15th. Why it didn't open on Saturday is a mystery to me and just goes to show you how our government agencies are clueless. Could opening one day earlier, so anglers could take advantage of a weekend day on Saturday really be detrimental to the sea bass population? In any case, a few boats ventured out on Sunday morning before the winds really picked up, cutting trips short. The first sea bass of the season was caught by Steve Billingsly on the headboat, "Morning Star". Leading into the season, black sea bass action really started to pick-up with several nice fish in the 20-inch range having to be released. Capt. Monty on the "Morning Star" is also reporting that he is seeing sea bass on some ocean structure that were barren last season, so hopefully this is a good sign.

It was a good weekend for striper fishing off Assateague Island with several fish in the 40-inch range being caught. Peeler crabs have been the bait of choice with fresh bunker a close second and sand fleas coming in third. This season has been different from those in the past. It seems to me that the beach off Ocean City has been almost as productive as Assateague so far this season, especially for those fishing on the northern end of Ocean City.

We also saw a few stripers caught around the South Jetty by anglers soaking peeler crabs.
Anglers fishing off Assateague have also hooked into some black drum recently. Chase Eberle caught a 22 pounder while fishing peeler crabs. A 65 pounder was caught on the "Fish Bound" by Timothy Witig on Sunday during a trip to a concrete pile in 35 feet of water.
As you can imagine, water clarity in the bay has been a problem for the last month due to the horrendous weather we had. It looks like once again that the flats, north of the Thorofare is the hot spot for early season flounder fishing. Bump trolling or slow drifting the channel edges with white Gulp! Swimming Mullet and minnows has worked well this spring. Saturday was a good day with several keepers caught in the morning. Anglers found flatties in the Thorofare, the East Channel and down by the Assateague Bridge where Dick Miller landed a 25-inch, 6 lb. 2 oz. flattie on a Gulp! and minnow combination. Bob Miller and Mike Brockmeyer had a good day in the Thorofare, boating 5 flounder between 17 and 19-inches. They were bump trolling Gulp! and minnow combinations across the flats.

Bluefish action off the beach has slowed but anglers fishing in clean water on Sunday morning around the Rt. 90 Bridge found choppers snapping at their lures during low tide. On Saturday, large schools of snapper blues underneath shad entered the Ocean City Inlet, creating fun times for anglers tossing lures.

Offshore, the big news was the "Talkin' Trash" heading out on Saturday to 1,100 fathoms outside the Baltimore Canyon and returning with 12 yellowfins in the box. Capt. Chris Little said that he put the lines in when he found 61-degree water and started getting bites when they got into 64-degree water. The fish looked to be in the 25-35 lb. range and hit on ballyhoos and plastics. Congratulations to the "Talkin' Trash" team for their great day!

The "Keep Er Wet" crew also headed to 1,000 fathoms, but they were outside the Poor Man's where Brian Leader landed the first mako shark of the season. The fish hit a whole mackerel and weighed 120 lbs. On Friday, the "Rod Father" fished in 600 fathoms in the Washington Canyon and released 8 blue sharks and a small mako. Water temperatures went from 51 to 61-degrees in 400 fathoms and worked it's way up to 64-degrees when they reached 600 fathoms. On Sunday, anglers on the "Bonnie Lynn" found 58.6-degree water between the Poor Man's and Washington Canyons and released 15 blue sharks and a mako. They said that they had a good size mako by the boat but just couldn't get it to bite.

It's starting to look like a fishing season, so take advantage of the good days and get out on the water.

See you at the scales!