Straight from the Delaware Division of Fish and Wildlife
Article by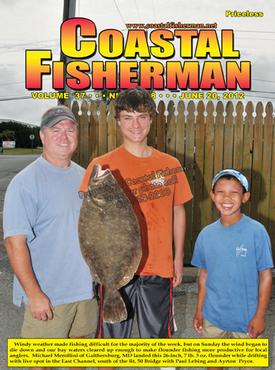 Happy Birthday, Delaware Reef Program!

On July 1, 1992, the Delaware Division of Fish and Wildlife initiated a Federal Aid Project to plan, site, permit and develop a series of artificial reefs along Delaware Bay and the Atlantic coast. Public input was sought and sites were selected which did not conflict with navigation or commercial fishing. A state reef plan was written, and environmental impacts were considered in a generic environmental assessment. State and federal permits were secured by the end of 1994. In 1995, development began and it continues on an annual basis. Delaware has 9 permitted sites in Delaware Bay and 5 in the Atlantic Ocean. Reef development efforts are funded through the Sportfish Restoration Program, administered by the U.S. Fish and Wildlife Service. This fund comes from excise taxes on fishing and boating equipment. Boaters and fishermen who pay the tax benefit from the launch ramps and artificial reefs these funds make possible.

Artificial reef development is the placement of manmade materials on permitted bay and ocean sites to enhance fish habitat. Delaware has used strictly recycled materials to build reefs. Three dimensional structures protect reef fish from predation and the hard surfaces support unique and enriched invertebrate communities. Depending on salinity, these communities may be dominated by oysters, blue mussels, colonial tube worms or northern/soft corals. Biological monitoring has shown that these communities are substantially different from the invertebrates living in the adjacent sediment and reefs support up to 400 times more food per square foot than the natural bottom.

Recycled reef materials come in many forms: complex concrete structures, like culvert, ballasted truck tires, retired military armored vehicles, commercial and military ships and barges and even retired New York City subway cars. These diverse materials all must have certain characteristics in common. They are stable and will stay where they are deployed on permitted sites. They are durable and will hold up well for decades (subway cars), centuries (ships) or even thousands of years (concrete) in the marine environment. Most importantly, these materials are non-toxic and will not harm invertebrate and fish communities.

2. Along the Atlantic coast, state reef building activity extends from Massachusetts to Texas. Nowhere is reef development more important than here in the mid-Atlantic region where nature has provided us with only featureless sand and mud bottom. To our north there is abundant natural rock, a by-product of ice ages and glaciers. To our south, structure building corals are an important fish habitat type. In the mid-Atlantic, artificial reefs and natural shipwrecks provide some of the only habitat for structure oriented fish like black sea bass, tautog and triggerfish. These reef fish are believed to be habitat limited in this region, so reef construction can support a larger population of these fish by protecting them and providing enhanced feeding opportunities.

Since 1995, Delaware's reef program has deployed nearly 90,000 tons of reef materials, 88 armored vehicles, 1,349 subway cars and 17 ships and barges. On August 10, 2011, the retired Navy destroyer Arthur W. Radford was sunk on a Delaware permitted site as part of a cooperative effort between the Navy and the Delaware, New Jersey and Maryland reef programs. At 563-feet in length, the Radford became the longest vessel ever reefed in the Atlantic Ocean. Following the sinking by about three weeks, hurricane Irene broke the vessel into three pieces. The Radford lies in about 135-feet of water, 26 miles from Indian River Inlet and about 30 miles from Ocean City, Maryland and Cape May, New Jersey. It is becoming a major dive attraction in the tri-state area and is providing excellent fishing opportunities for sea bass, cod, hake and flounder as well as pelagic fish like bluefish, jacks, sharks and bluefin tuna. The Radford was an excellent reefing candidate and a relatively modern vessel. Built in 1977 and decommissioned in 2003, the Radford had very little toxic materials onboard that are more common in World War II era vessels. The environmental clean-up of the vessel and preparation to make it safe for divers took 15 months and was accomplished for less than $1 million. American Marine Group, of Chincoteague, VA was the marine contractor who prepared the vessel in Philadelphia, PA. By combining our efforts and funding sources, the states of Delaware, New Jersey and Maryland were able to compete successfully to acquire the vessel, prepare and sink it. None of the individual states would have had the resources to do this work alone.

This was the first multi-state reefing project and it was a great success. Positive habitat benefits to reef fish will continue to improve as the ship develops an enriched invertebrate community. By September, 2011, two months post-sinking, the Radford was providing great hook and line fishing opportunities. Positive financial benefits to the tourist economy of coastal communities in the tri-state area are anticipated due to the presence of a world class diving destination and a great fishing location. All these benefits are expected to continue for the life of the ship, more than 100 years.
Twenty years ago, Delaware became the last state from New York to Texas to initiate a state-sponsored reef program. By starting late we were able to take advantage of the learning curve of other state programs and avoid some early mistakes. Consistent funding has allowed the Delaware Reef Program to be very productive, culminating with the successful team effort to acquire, prepare and sink the Radford. It has been a great 20 years. Enjoy fishing and diving Delaware's reefs!

If you want to learn more about the location of Delaware reefs and specific deployment locations, a free 2011-2012 Reef Guide is available. Send your request and your mailing address to Ms. Janet Dennis, Delaware Division of Fish and Wildlife 3002 Bayside Dr. Dover, DE 19901.