Article by Sue Foster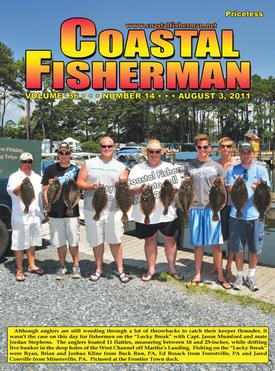 I've noticed that in my online store I ship out a lot of Spec Rigs to southern states like Florida and Texas. In our stores we also sell a lot of Spec Rigs to anglers fishing on the Oceanic Pier and the Rt. 50 Bridge at night. Flounder fishermen add spec rigs to their shopping baskets and have good luck with them by adding bait to the little jigs.
"What is a Spec Rig?"
Spec Rigs, also called "speck rigs" or "red fish rigs" are two small jigs, the size of shad darts, tied in tandem. Several companies make them, with the most popular being Betts. Another company that sells a lot of them is H & H. Betts describes their rig as, "A deadly double combination of two jigs tied in a tandem on 30 Ib. test nylon on cadmium plated hooks. Hard, chip resistant paint is used on all Betts jigs." They come in different weights including 1/16th, 1/8th and 1/4 ounces. The Betts also comes in a model called a Heavy 1/8 Magnum Spec Rig. These have heavier hooks and are especially good for fishing for flounder and bluefish or any fish that is big and might bend the hook.
The H & H Lure Company has been manufacturing Speck Rigs for over 50 Years. They are family owned and based out of Baton Rouge, Louisiana. Their Speck Rigs come in 1/8 or 1/4 ounces. The 1/4 ounce model are called Red fish Rigs while the 1/8 ounce ones are called Speck Rigs. That's because down south anglers target speckled trout with the 1/8 ounce size and Red Fish (Red Puppy Drum) with the 1/4 ounce size.
I use Spec Rigs a lot, and while the H & H rigs are less expensive, the Betts seem to be made better and the jigs heads last longer. The paint definitely stays on the head longer! The Spec Rig comes in a multitude of colors including white, chartreuse, pink, red, orange and shrimp glow.
Spec Rigs really work for speckled trout. Even though we don't catch many in Ocean City, the few times that they do migrate here in the fall, Spec Rigs work well. I used them in Virginia last fall and tipped them with a 3-inch Gulp! Swimming Mullet. That's all I used to catch speckled trout during their 3 to 4 week run.
So, if we don't have that many speckled trout in Ocean City why do we sell so many Spec Rigs? That's because the rigs are so versatile that they work for many species of fish. First of all, the Spec Rig is one of the most popular lures sold on the Oceanic Pier for snapper blues and shad at night. Shad especially, will only take a small jig and the smaller sizes of spec rigs are perfect for this kind of fishing. (Shad are a game fish in MD and must be released.)
Sometimes the weight of the lures themselves is enough, but sometimes anglers need to add a weight on the loop at the bottom of the Spec Rig. Jigging the Spec Rig beneath the lights at night on the Pier, Inlet and Bridge will give anglers interesting action. The hooks aren't huge, so sometimes when a big fish like a rockfish is hooked, the fish will be lost if the angler does not have a net. On the Rt. 50 Bridge you will need a bridge net.
A Spec Rig can also be used during the day to cast for blues or shad at the Inlet or piers. Anglers in Delaware, especially on the Cape Henlopen Pier, find that Spec Rig are very popular for catching flounder. Anglers tip the jigs with Gulp!, live minnows, shiners, little strips of squid or fresh cut bait. They add a sinker to make sure the lure goes to the bottom. Cast out, and slowly retrieve along the bottom. Twitch your rod tip to give the lures added attraction!
The smaller Spec Rigs (which have smaller hooks) can be used to catch Norfolk spot and other small panfish by tipping the jigs with bloodworm, Artificial Bloodworm, night crawler or little pieces of squid. Again, for these species you want to fish the bottom, so be sure to add enough sinker weight to get you there.
When we are able to get a day off, my husband and I fish for flounder at the Chesapeake Bay Bridge Tunnel. Spec Rigs work very well there. We usually retie the jigs so they are slightly further apart. We use cut bait like fresh spot or legal croaker and add a 3 to 4-ounce bank sinker. We jig near the pilings of the Bridges on the slacking tides. Flounder really hop on the hooks when they are biting! I'm sure this same technique would work well in Ocean City around the rocks at the Jetty or the rip rap around the 2nd through 4th Street Bulkhead. The trick is to jig and not let out so much line that the rig gets hung up on the bottom! It's kind of like fishing the popular "Tap Dancer", a ball jig with a smaller hook tied up on the leader of the rig.
I have caught many flounder on a Spec Rig baited up with plain ol' live minnows during my life in Ocean City. When fishing the "flats" of the Thorofare, the shallower waters behind Convention Hall or
the small channel around Hooper's where there is not a tremendous amount of tide, you can use Spec Rigs with no extra weight. Just add live minnows to the lures, cast them out away from the boat and jig them in slowly towards you with the tide. Always keep the Spec Rig moving. Twitch your rod tip and give it a jigging action. Using a lure is a waste of time if you don't add motion to it. Besides, if you just let it sit there on the bottom, the fish may swallow the hook.
Bammm! There's a flounder!
Good Fishing….

Sue Foster is an outdoor writer and co-owner of Oyster Bay Tackle in Ocean City, MD and Fenwick Tackle in Fenwick, DE.