12.5.19 9:36 am
FISHING REPORT

by Larry Jock



**
SEND IN YOUR PICTURES!!! We are pulling together photos for our BIG Winter Issue, so if you want to submit your picture, just email it to coastalfisherman@comcast.net. Send it at "Actual Size" and include all the information in the body of the email**



***
OUR NEW 2020 SHIRTS ARE SELLING LIKE HOTCAKES!!!



Folks are buying them like crazy for Christmas presents so don't delay. Get yours today while they are still in stock. Just log onto our website to get to our store.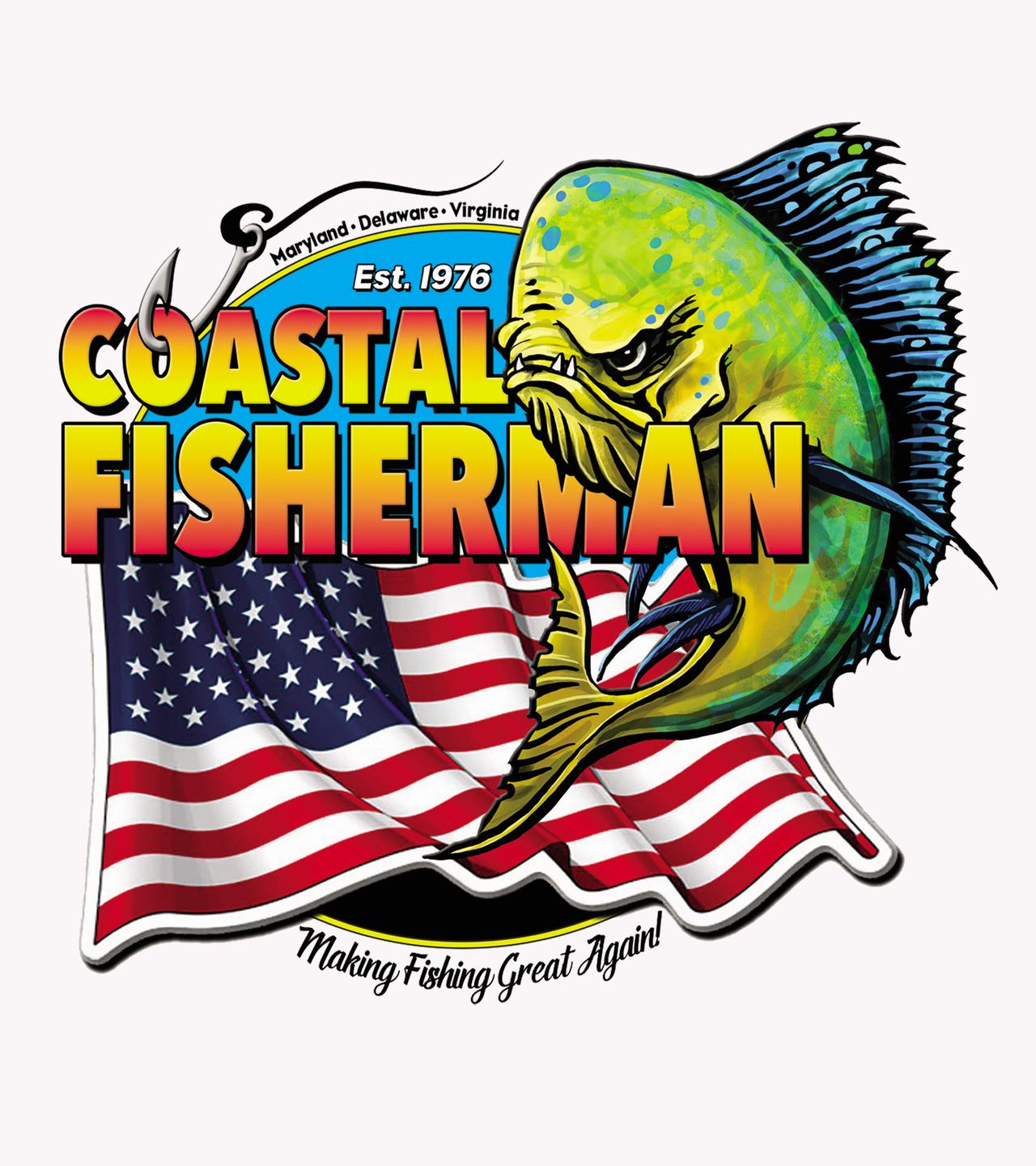 THURSDAY, December 5, 2019


Yesterday, anglers on the headboat, "Morning Star" had a great day of sea bass fishing. First angler to limit out only took 62 minutes. Largest fish of the day was a whopper. Garry Mullins caught a 22-inch, 5 lb. 1 oz. knothead.






WEDNESDAY, November 27, 2019


Yesterday, boats ventured offshore and got into more bigeye tuna and swordfish. Both have been caught in the Baltimore, Poor Man's and Washington Canyons lately and it doesn't look to be slowing down. Anglers are getting multiple hook-ups each day.



Anglers on the "Primary Search" continued their good year with a 62-inch bigeye tuna hat was estimated to weigh between 150 and 160 lbs.



On the headboat, "Morning Star", anglers found very calm seas but had to work a little harder to catch their limit on black sea bass. Yesterday was a Bing.. Bang... Boom. No so much today although 1/3 of them caught their limit. Largest knothead was 21-inches.








TUESDAY, November 26, 2019


Yesterday, the headboat, "Angler" hit some ocean wrecks and anglers caught some good size flounder and multiple limits of black sea bass. Largest flounder weighed 6 3/4 lbs.



I had reports from boats that ventured outside the inlet in search of the gannets that I reported on yesterday that were seen off 50th Street. In the afternoon, the birds had moved down to just outside the Inlet and there was a ton of bait underneath them. Unfortunately, no bites were reported.



The Lewes Harbour Marina Tog Tournament is officially over. First place was Bob Murphy with an 8.85 pounder. Chip Graves took 2nd place with an 8.46 pounder and Greg Ferzetti finished in 3rd place with an 8.4 lb. tog.




MONDAY, November 25, 2019




9:30 AM - Reports have come in about "acres of bunker" off 50th Street this morning. My foreign correspondent up in Ocean City New Jersey said that they are seeing more fish in their rivers than they saw at this time last year.



On Saturday, the "Angler" returned with a good catch of flounder after fishing over ocean wrecks. Largest fish weighed 8.5 lbs. followed by an 8 pounder and a 7.5 pounder.



Also on Saturday, anglers on the "Morning Star" ventured further offshore and almost caught a limit of black sea bass. Largest was 20-inches.



Offshore boats continued to pound on swordfish over the weekend, catching them in 1,200 feet of water in the South Poor Man's Canyon.




4:05 PM - Anglers on the headboat, "Morning Star" had a great day today. Flat calm seas and fishing in the t-shirt. Life is good! Everyone limited out on black sea bass within 85 minutes with Ryan Bodley catching his limit of 15 fish in 27 minutes.




4:39 PM - My foreign correspondent reported that larger stripers are being seen in the South Jersey bays and rivers around Ocean City, NJ. Reports have also come in about fish in the ocean off Sea Isle City.



Lets hope everyone has a great 2019 season because next year is going to suck! Load up... buy bait... can only catch 1 fish AND you can't "harass" stripers because it is against the law so you can't catch and release them. Fun, fun, fun...



Awesome striper bite in the OC Inlet today, especially around the Rt. 50 Bridge.






WEDNESDAY, November 20, 2019



Yesterday, Capt. Monty on the headboat, "Morning Star" said that dogfish sharks were brutal yesterday, forcing them to head further offshore than planned. Best spot was an artificial reef. High hook had 13 knotheads. Capt. Monty will only be running 11 hour trips from here on since he will run further offshore.






FRIDAY, November 15, 2019


Anglers on the headboat, "Morning Star" dealt with 18 to 21 knot winds for most of the day and the sea bass were snapping in front of the approaching bad weather. Largest was a 21-incher caught by Gordy Kautz. A few limits around the rail.






THURSDAY, November 14, 2019


Anglers on the headboat, "Angler" had a good day today with almost everyone catching their limit of sea bass. A few big flounder were also caught led by Tom Adkins' 7 pounder. All caught on jigs over a natural ocean reef.



Capt. Monty on the headboat, "Morning Star" reported beautiful conditions on the water with afternoon south winds barely creating a 1-foot sea. They headed further offshore than normal and had a lot of marks on the sounder. Around 1/2 of anglers caught their limits of sea bass weighing up to 3.5 lbs.






MONDAY, November 11, 2019


Tom Vaughan and Mike Glyphis teamed up to catch 2 red drum and 8 speckled trout around the Rt. 50 Bridge today.



The ocean was a little snottier than expected for Capt. Monty on the headboat, "Morning Star" but the sea bass were chewing before he had to head in early.






SUNDAY, November 10, 2019


Looks like the tautog bite is heating up along the rocks in the West Channel off Martha's Landing.



Anglers on the headboat, "Morning Star" were expecting 10-15 mph winds out of the southwest but ended up dealing with winds in the low 20's out of the west. It didn't stop them from catching black sea bass all day long with Hurricane Murray Adams being the firt to catch their limit. Had to weed through a lot of short fish to get their keepers.



Junior angler, Conner Vaughan of West Ocean City, MD and his dad, Tom Vaughan caught a couple of red drum and speckled trout while fishing around the Rt. 50 Bridge.






SATURDAY, November 9, 2019


On the headboat, "Angler", Charles Wright caught a 29-inch, 8 lb. 8oz. flounder on a bucktail at an ocean wreck.



Tim Bricker caught a 4 lb. black sea bass at the Bass Grounds.






THURSDAY, NOVEMBER 7, 2019


Speckled trout are snapping around the Rt. 50 Bridge. This morning anglers found a good bite at the start of the outgoing tide. Bite was also good yesterday.



David Rippy caught 4 speckled trout while fishing off the Rt. 50 Bridge. He caught them on tandem rigs with 4-inch Riptides (glow in the dark).



The swordfish bite in the Poor Man's Canyon just keeps rolling along. Most in 1,200 to 1,400 feet of water. Several boats caught fish and a few had more than one. There were also bigeyes caught today as well. "Marli" had 4 on the troll.



Capt. Monty on the headboat, "Morning Star" said winds made it challenging but they did have a good bite on sea bass but had to weed through short fish to box their keepers. Cathy Creel was closest to hitting the limit with 10 knotheads and a trigger.






WEDNESDAY, NOVEMBER 6, 2019


Yesterday, anglers on the headboat, "Morning Star" had a few limits and the pool winner had a 21-incher. One angler caught 2 sea bass on 1 hook!



Also, a late congratulations to local angler, Bill Pino for taking first place in the 2019 Bisbee's Black and Blue tournament with a 577 lb. blue marlin. Bill fought the fish for 44 minutes and earned Bill and the "Tranquilo" team $1,411,000 in award money. Way to go, Bill!






TUESDAY, NOVEMBER 5, 2019


Dreary day in OC. A couple of nights ago, Cody and Buddy Martin hit the bridge at night and had a good outing catching stripers. They lost count of the short fish but Cody did catch a 19 1/2-incher and Buddy added a 28-incher and 33-incher to the box. All caught during the outgoing tide with 1 1/2-oz. jig heads tipped with white Super Flukes.



Yesterday, Capt. Chris on the headboat, "Angler" reported good fishing with a boat limit of sea bass and some flounder weighing up to 4 lbs. 8 oz. All were caught on squid on an ocean wreck.



Yesterday, Capt. Monty on the headboat, "Morning Star" said that they stayed close to the beach and had a boat limit of sea bass at their first stop. Largest was 19 1/2-inches.



The Delware Reef Program sunk a cruise ship at Site #11. Check it out in the Breaking News section of this website.






SUNDAY, November 3, 2019


Capt. Monty on the headboat, "Morning Star" said that his anglers battled the wind today and had to spread the work over 5 spots today. They had been spoiled with "one stop shopping" lately with 3 boat limits in a row. Wind kept them closer to shore. Also caught some triggers up to 17 1/2-inches.



Last Saturday, Robert, Jeff and Jon Hartman went to the Poor Man's Canyon and boated a 60-inch bigeye tuna. Water temp was 62-degrees.



A few boats had good results over the weekend catching swordfish. Some boats had multiple fish.






THURSDAY, October 31, 2019


Well, we knew it was coming.



The ASMFC Striped Bass Board approved the addendum to the Striped Bass Fishery Plan to decrease the recreational bag limit to 1 fish that is between 28" and 35" for the ocean fishery and down to 1 fish over 18" for the Chesapeake. In addition, circle hooks must be used when fishing with bait. By November 30th, states will be able to submit proposals for alternative regulations to reach their 18% reduction. Changes won't go into effect until next year. All of this is because the feds feel that striped bass are overfished and overfishing is occuring.








WEDNESDAY, October 30, 2019



Congratulations to local angler, Mike Glyphis for catching a pending Maryland state record triggerfish while fishing at the Washingtonian wreck with Tom "Chef" Vaughan. Mike's trigger tipped the scale at an even 6 lbs., shattering the old record of 5 lbs. 2 oz.



Anglers on the headboat, "Morning Star" had a great day of sea bass fishing today with everyone catching their limit. Even the mates caught their limit of knotheads. Largest was 19.5 inches.



Flounder are still being caught in the East Channel.



Anglers in Chincoteague are tearing up the speckled trout.






FRIDAY, October 25, 2019


Capt. Nick Clemente on the "Get Sum" emailed me today with a limit of stripers caught on his charter trip in the Chesapeake Bay. Capt. Nick is running striped bass charters out of Cambridge, MD. I went with him yesterday and we caught 5 stripers and had a great time!






SATURDAY, October 19, 2019


Robert and Jeff on the "De-Bait_Able released a white marlin and caught a mahi in 64-degree water in the Baltimore Canyon.



Anglers on the "Fish On" caught a 128 lb. swordfish in the Poor Man's.



Bryan Mullins, Doug Caldwell and Chris Beck caught a combination of triggerfish, sea bass and bluefish at the Bass Grounds this morning.



Capt. Monty on the headboat, "Morning Star" ran south and said that the highlight of the day was seeing a 300 lb. bluefin tuna breaking the surface inshore during its migration south. His anglers ended up with triggerfish and many anglers catching their limit of black sea bass.




FRIDAY, October 18, 2019


On the headboat, "Morning Star", anglers battled the wind all day but anchored inshore and caught a handful of triggerfish and weakfish along with a couple of bluefish.






SUNDAY, October 13, 2019


I fished this morning with Rich Daiker and Kenny Schoen. We tossed Roy Rigs and live bait around the Rt. 50 Bridge and came away with 4 keeper flounder and a couple of short stripers. Live bait produced better results. Water was extremely dirty. Couldn't see my bait 6-inches under the surface.



Capt. Monty on the "Morning Star" sid that after his last 2 trips that resulted in boat limits of black sea bass, he had to really work for the catch today. Still ended up with a lot of full coolers.






MONDAY, October 7, 2019


It's no surprise that the stretch of windy weather made offshore fishing impossible on most days and bay fishing challenging with dirty water. Sheepshead are still being caught around the South Jetty by anglers dangling sand fleas or green crabs. Flounder fishermen are pecking away at flounder, but they are really putting in their time to get close to a limit. The East Channel by the Rt. 50 Bridge is the "go to" spot right now, but I wouldn't be surprised if they are around the South Jetty as well.



Kern Ducote fished on Saturday and caught 3 keeper flounder, 2 short stripers and a bluefish. All on Gulp shrimp. Flounder were between 16 1/2 and 19-inches. The flounder were hooked near the Bridge and the striper and bluefish were caught around the Oceanic Pier.



Emma Prince caught a 17-inch flounder while fishing off Gudelsky Park in the West Channel.




THURSDAY, October 3, 2019


Windy today in OC. Certainly not going to help bay fishermen looking for flounder. They have been contending with very dirty water due to the large swell coming in from the ocean. Has made flounder fishing tough for most. Still some sheepshead being caught around the South Jetty.






WEDNESDAY, October 2, 2019


Looks like they are still catching good size sheepshead at the South Jetty. Budd Heim reported catching a couple that were just over 8 lbs. Heaviest one this year weighed 13 lbs. 3 oz.



On the headboat, "Morning Star", Capt. Monty Hawkins reported sporty seas in the morning so he had to stay further inshore than he would have liked, but they fished a few spots with success. Then the seas started to lay out, so they headed further offshore and the sea bass were chewing! Anglers were catching black sea bass on bare hooks. Ended up with a boat limit!






TUESDAY, October 1, 2019


"Rhonda's Osprey" caught 16 dolphin, a yellowfin and released a white marlin in the Baltimore.



"Marli" caught their limit of dolphin in addition to a pair of yellowfins in the Baltimore Canyon.



"Fish On" released 3 white marlin and caught 6 dolphin in the Poor Man's Canyon.



"Buckshot" released 4 white marlin in the Poor Man's.



On the headboat, "Morning Star", Capt. Monty reported a mixed sea early in the morning but things started to mellow by mid-morning. Sea bass bit fairly well. High hook had 14 knotheads and 3 triggerfish. Largest triggerfish caught was a 17-incher. Largest sea bass measured 18 1/2-inches.




MONDAY, September 30, 2019


Updated previous days reports.



An angler on the charter boat, "Lucky Break" just missed the Maryland State Record when he caught a 5 lb. triggerfish on a sand flea by the South Jetty.






SUNDAY, September, 29, 2019


Rich Daiker and Ken Schoen caught thier limit of keeper flounder by the Rt. 50 Bridge during the incoming tide. Fish were fat! Largest measured 21 inches. All on bunker.



"Tighten Up" had 5 white marlin releases in the Baltimore.



"First Light" had a white marlin release and a yellowfin tuna in the Baltimore.



Charter boat, "Boss Hogg" had a wahoo, a yellowfin and 60 dolphin in the Baltimore.



"Buckshot" had 6 white marlin releases in the Baltimore.



"DA Sea" had 3 white marlin releases in the Baltimore.



"Rhonda's Osprey" had 2 white marlin releases, a yellowfin tuna and 29 dolphin in the Baltimore Canyon.



"Fish On" had 2 swordfish and 4 dolphin in the Wilmington.



Kern Ducote and Mike Quade continued their fantastic season of flounder fishing with another limit of 8 fish ranging from 17 to 19-inches. They also caught a couple of big bluefish. All in the East Channel, north of the Rt. 50 Bridge. They said that the bluefish blitz lasted about 5 minutes just to the west of the draw.






SATURDAY, September 28, 2019


On the "Fish Whistle", anglers caught 4 wahoo in 50 fathoms inside the Baltimore. Largest was a whopper... 94 lbs. State record in Delaware is 106 lbs.



On the headboat, "Judith M", anglers had a fantastic day of sea bass fishing with over 100 keepers in addition to catching 5 keeper flounder and a bluefish. All on squid and shiners at the Great Eastern Reef. Largest sea bass was 19-inches.



On the "Hot Spot", anglers caught a yellowfin tuna and a dozen bailer dolphin in the Baltimore Canyon.



On the headboat, "Morning Star", Capt. Monty Hawkins said that the forecast looked inviting but in reality the sea conditions were knarly. He watched a lot of boats turn around. His anglers braved the conditions and scratched out a pretty good catch with one angler even limiting out. They also had numerous throwback flounder and one keeper.



On the "Delicious", Rich Daiker, Ronnie Bessling and Stacey Phillips caught 6 keeper flounder on live bunker by the Rt. 50 Bridge. Three were over 20-inches with the largest being 24-inches.



"Primary Search" had 2 big wahoo and a yellowfin tuna in the Baltimore.



Tommy Hinkle and Ryan Cowder caught a couple of flounder at the end of the incoming tide in the East Channel. Fish were 17 1/2 and 20 1/2-inches. Caught on Gulp/minnow combinations.






FRIDAY, September 27, 2019


Sounds like the marlin bite up in the Wilmington Canyon was nowhere as good as it was on Wednesday. Boats came back with only a couple each. I heard that as soon as the tunas showed up yesterday morning, the marlin bite turned off.



Capt. Monty on the headboat, "Morning Star" said that yesterdays black sea bass bite was ferocious! Cathy Creel limited out in only 50 minutes. A lot of limits around the rail. They also caught some triggerfish, a handful of snapper bluefish and 1 keeper flounder.



Ryan Lignelli caught a 23-inch, 7 lb. flounder on a white Gulp at the South Jetty.






THURSDAY, September 26, 2019


Right now, it looks like the white marlin bite up in the Wilmington Canyon is going strong. The "Billfisher" is out on an overnighter and I heard they released 22 yesterday. "DA Sea" also had a good day yesterday with 14 white marlin releases.



A few yellowfins were also caught. Nothing great. Just a couple here... a couple there. "DA Sea" had 4 yesterday in the Wilmington and the "Cabana" said they were in the Washington Canyon where they had a bigeye, 2 yellowfins, 30 dolphin and a swordfish.



There was a good wahoo bite last weekend with the best coming from outside the Hotdog where anglers also found good numbers of dolphin and a few yellowfins. Other wahoo were caught outside the Rockpile so reports came in about the speedsters being spread out.



The black sea bass bite continues to be very good. Remember, there is NO closure this year. The season is open until December 31st. We didn't see much before the effects of Hurricane Dorian blew through, but since then it has been very good. I believe the best in in 100-feet of water. Anglers on the headboat, "Morning Star" had another good day yesterday with several limits of 15 fish around the rail.



Those looking to jump on the traditionally good flounder on ocean bottom this time of year continue to be frustrated. Boats are catching a few, but nothing to write home about.



In the bay, anglers are still picking at flounder. Dirty water is making things tough with the big swell off the beach. The East Channel is still producing and I wouldn't be surprised if the better bite was around the South Jetty where anglers are still finding sheepshead interested in their offerings of crabs. I also received a picture of an angler who caught a sheepshead around the Rt. 50 Bridge.



I haven't heard anything about a speckled trout bite just north of the Rt. 50 Bridge. If we are going to see them, this is typically around the time of year we do so.



Anglers on the "Bad Behavior" had 4 white marlin releases in the Baltimore Canyon.



4:23 PM - Danny Cox caught a 22.5-inch flounder that weighed 5 lbs. 6 oz. His biggest one so far this year. Caught around the Rt. 50 Bridge on live spot.






WEDNESDAY, September 25, 2019


Anglers on the headboat, "Morning Star" put the smackdown on black sea bass today. Had to slide offshore a bit. Ended up with a boat limit of knotheads.



"Marli" had 40 mahi, 1 yellowfin and 1 white marlin harvested and 1 released in the Baltimore Canyon.



"Pumpin Hard" returned with 9 dolphin, 1 yellowfin and 3 white marlin released from the Baltimore.



"Cabana" had a bigeye, 2 yellowfins, 30 dolphin and a swordfish in the Washington.



"Half Full" had 25 dolphin and 4 white marlin releases in the Wilmington.



"Brenda Lou" had 2 white marlin releases in the Wilmington.



"DA Sea" had 4 yellowfins and 14 white marlin releases in the Wilmington.






TUESDAY, September 24, 2019


Capt. Monty Hawkins on the headboat, "Morning Star" reported very sporty conditions today. Sea bass were snapping. Largest was a 17 1/2-incher. Bill Engle caught an 11.5-ionch porgy. Only porgy caught on the "Morning Star" this year.



While fishing at night off the Rt. 50 Bridge, Jessica Ager caught a 16-inch sheepshead while using sand fleas for bait. Nick Ager hooked a 28-inch black drum, also on a sand flea.






MONDAY, September 23, 2019


On the headboat, "Tortuga", angler Gordy Spangler caught a 20-inch, 3 lb. 4 oz. flounder in the West Channel. Used shiners and squid for bait.






SUNDAY, September 22, 2019


Kern Ducote caught 4 keeper flounder during the outgoing tide in the West Channel. Three were fooled with Gulp shrimp. Largest was a 24-incher. Smallest measured 17-inches.



Rich Daiker caught a 22-inch flounder and a big triggerfish. The flattie was hooked on a live bunker by the Rt. 50 Bridge and the trigger came on a sand flea at the South Jetty.



On the "Mud Skipper", Jay Schlosser released his first white marlin after hooking it on a naked ballyhoo in the Poor Man's Canyon. 70-fathoms. The anglers also caught 12 mahi.



Andrea Wood caught a 40-inch, 26 lb. mahi in the Baltimore Canyon during a trip aboard the "Fabricator".



On the charter boat, "Fish On", anglers caught a 164 lb. swordfish in the Wilmington Canyon where they also released a pair of white marlin.



"Cabana" released a white marlin and caught 8 dolphin and a yellowfin around the Rockpile.



"Marli" caught 60 dolphin, 4 yellowfins and released a blue marlin around the Rockpile.



"Brenda Lou" caught a wahoo and released a pair of whites around the Rockpile.



"Grande Pez" caught a yellowfin and 10 dolphin near the Rockpile.



"Pumpin Hard" had 20 dolphin in the Poor Man's.



"Griffin" released 5 white marlin and caught 9 dolphin in the Poor Man's.



"Reel Chaos" released 2 white marlin and caught 10 dolphin and a yellowfin in the Wilmington.



"Primary Search" released a white marlin and caught 5 dolphin in the Wilmington.



"DA Sea" released 3 white marlin in the Wilmington Canyon.






SATURDAY, September 21, 2019



Marc Turner caught a pompano this morning while fishing in the surf off 123rd Street. Low tide.



Danny Cox and Greg Volpitta caught 4 keeper flounder on live bunker by the Rt. 50 Bridge. Fish were between 17 1/2 and 19-inches.



Pat Strine caught a 22-inch flounder on live spot in the Ocean City Inlet at high tide.



On the headboat, "Morning Star", anglers caught a boat limit of black sea bass. Had to go offshore a bit. Largest was 19-inches.



During the early evening while fishing off the Rt. 50 Bridge, Nick Ager caught a 26-inch black drum.



On the "Lit Up", anglers headed to the Baltimore Canyon and caught a billfish slam consisting of 1 white marlin, 1 blue marlin and a swordfish. Blue marlin was estimated at 350 lbs. and the swordfish was around 300 lbs. They also caught a wahoo and 8 dolphin.



Anglers on the "Reel Fin Addict" caught 4 wahoo and 2 yellowfins in 40 fathoms outside the Hot Dog.






FRIDAY, September 20, 2019


Anglers on the charter boat, "Fish Bound" caught 17 triggerfish, 10 black sea bass, 28 bluefish and an amberjack.



This evening, Richard Crosariol caught a 21-inch flounder in the West Channel. It was his only bite. Caught it on a live spot during the last of the incoming tide. Water temp was 72-degrees.






THURSDAY, September 19, 2019



Anglers on the headboat, "Morning Star" found non-stop black sea bass action. Had several anglers close to their limit of 15 fish.






TUESDAY, September 17, 2019


Kyle Krisher caught his first swordfish while dropping squid in 1,400 feet in the Poor Man's Canyon. Kyle and his dad also caught 16 dolphin during their trip. Swordfish was estimated at 125 lbs.



Charter boat, "Marli" returned with 50 dolphin from the Baltimore.






MONDAY, September 16, 2019


Anglers on the "Marli" decided to go daytime swordfishing and it was a good call. They returned with a 424 pounder from the Baltimore Canyon. They were fishing in 1,600 feet of water and caught it on an eel during the second drop.



Anglers on the headboat, "Morning Star" found heavy morning fog with visibility of less than 50 feet. Water was flat calm. Good sea bass bite. Doubleheaders right out of the gate. Largest knothead was 18 1/2-onches.



Danny Cox caught a couple of keeper flounder today by the Rt. 50 Bridge. Used bunker for bait. Fish measured 19 and 19 1/2 inches. Heaviest weighed almost 3.5 lbs.



Anglers on the headboat, "Angler" caught a boat limit of black sea bass and some flounder weighing up to 3.5 lbs. All on a natural ocean reef.



Anglers on the "Wreckless Pursuit" caught and released a white marlin in the Baltimore Canyon. Fish hit a spreader bar. They also broke off another white marlin and caught a pair of dophin.



"Rhonda's Osprey" released 2 white marlin and 1 blue marlin in addition to catching 23 dolphin in the Baltimore Canyon.



Charter boat, "Boss Hogg" caught 60 dolphin and released a white marlin in the Baltimore Canyon.



Charter boat, "Reel Chaos" caught 27 dolphin and released a white in the Baltimore.



"The Zipper" caught a 66 lb. longfin albacore tuna, 7 dolphin and released a pair of white marlin in the Poor Man's Canyon.



"Blood Money" caught 30 dolphin and released a blue marlin and 4 white marlin by the Rockpile.



"Tighten Up" caught 2 dolphin, 1 longfin, 1 yellowfin and released a white marlin in the Wilmington.



"Buckshot" caught 3 dolphin, 2 yellowfins and released 6 white marlin in the Wilmington.



"Fish On" caught 3 yellowfins and released 2 white marlin in the Wilmington.






SUNDAY, September 15, 2019


The Challenge Cup was extended to today. There are a lot of boats offshore fishing today.



On the charter boat, "On the Run", anglers Nick Dean caught a 13.2 lb. sheepshead at the South Jetty while using crabs for bait.



Christopher Ditch and Matthew Flenniken hit some shoals off Ocean City and caught bluefish and a couple of Spanish mackerel.



Mason Hurst, Jamie Willis and Matt Hurst caught 4 flounder, 8 sea bass and a 20-inch triggerfish at the African Queen.



Anglers on the "Primary Search" returned from an overnighter in the Wilmington Canyon with a mako shark release, 2 yellowfin tuna, 2 white marlin releases, a boated white marlin, a wahoo, 2 golden tilefish, 2 blueline tilefish and 2 mahi.



On the charter boat, "Marli", anglers had 2 white marlin releases, a yellowfin tuna and 60 do