4.25.19 1:29 pm
FISHING REPORT

by Larry Jock






***SEND IN YOUR PHOTOS (1st issue only 1 week away) - We are starting to get ready for the 2019 season, so if you have any pictures you would like to email us of catches since January 1st, you can email them to coastalfisherman@comcast.net. Please include 1 picture per email submission but feel free to submit as many pictures as you would like. Send the pictures at "Actual Size" which is the largest size possible and include all the information about the catch in the body of the email. Feel free to send pictures from any trips, both local and out of area, that you made since January 1st. Thanks!!






**COOL NEW FEATURE - If you have any fishing related questions you would like to pose to area Captain's, please email to coastalfisherman@comcast.net. Questions and answers will be published in issues during the 2019 season. Please include first and last name along with where you live. We will only publish your initials and town.






THURSDAY, April 25, 2019


Small bluefish seem to be all around the bay behind OC and I also had reports that they are in the back bays in Southern Delaware. Fish aren't huge with most in the 20-inch range.



Flounder are still snapping on the Thorofare flats.



I received a report from Rich Watts who ventured down to Wachapreague on Tuesday and caught a pair of 5 lb. flatties. He hooked them on bucktails tipped with Gulp shrimp.



Capt. Matt at Seahawk Sports Center in Pocomoke said that anglers have been getting into flounder in Wachapreague for the last 3 weeks. Nothing red hot, but his charter had 7 keepers on Tuesday and a fun fishing trip yesterday produced 4 keepers. They had between 15 and 20 throwbacks as well. The best results came from Gulp and shiner combinations. Their largest fish measured 21.5-inches. Water temp at the end of the outgoing was in the mid-60's. The incoming was in the 50's.




1:26 PM - Larry Slater jumped on the charter boat, "Get Sum" this morning and ended up with a 17 1/2-inch keeper flounder and 6 throwbacks. Fish were caught on white Gulp on the west side of the Thorofare.






TUESDAY, April 23, 2019



10:00 AM - Although the wind has been more than we'd like, making the bay waters murkey, flounder are still being caught in good numbers in the Thorofare. Trollers are whacking them good.

Yesterday, Mike Johnston had another good day, returning with his limit of 4 flatties after trolling the flats. Mike said that red and pink worked the best. He also had double digit throwbacks with a lot of them in the 16 to 16 1/2-inch range.



Yesterday, the regular Monday group headed out on the charter boat, "Katydid" to fish for tog. They had a lot of throwbacks but did have 4 keepers with 2 over 5 lbs. All on ocean structure.




4:56 PM - Big Bird Cropper and Dave Hrycyk hit the South Jetty and ended up with 5 keeper bluefish (largest was 19.5") and 18 thrown back stripers. All on Roy Rigs.






MONDAY, April 22, 2019


We are still seeing good numbers of short stripers caught around the Rt. 90 Bridge.

Flounder fishermen are pounding the Thorofare flats.



Big bluefish invaded the bay behind OC over the weekend. Fish were in the 20-23 inch range.



Yesterday, Nate Gregory and Katie and Tanner Thatcher caught six flounder on Gulp artificial baits in the bay over the Thorofare flats. Water temp was 62-degrees. The largest flounder was a 20-incher caught by Katie.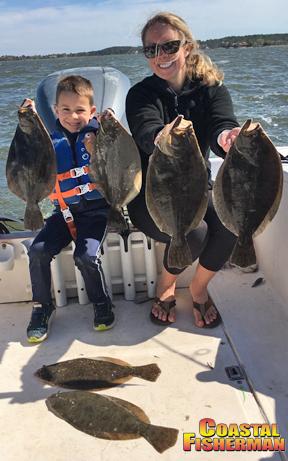 Surfcasters continue catching black drum with an ocassional striper thrown in. It's surprising the stripers haven't shown up in better numbers since Jersey anglers are experiencing an epic spring run.
WEDNESDAY, April 17, 2019

12:14 PM
- Big Bird Cropper and his lovely bride, Tammy, hit the South Jetty this morning and released over 20 stripers, measuring up to 23-inches, in addition to hooking a couple of bluefish. One was lost but the other measured 26-inches and weighed 6 lbs. 8 oz. Biggest striper was 23-inches. All caught on, what else... Roy Rigs!!! Bird said that the water temperature got up to 50-degrees when he stopped fishing just before noon.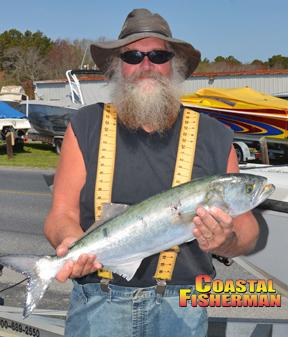 2:05 PM
- Capt. Nick Clemente on the charter boat, "Get Sum" said that the wind was howling up on the Thorofare flats today with water temperature up into the low 60's.
SUNDAY, April 14, 2019
With the improvement in weather, we are starting to see more boats on the water. This weekend the flounder were snapping on the Thorofare flats and black drum were caught off the beaches.
Nate Gregory and Katie Thatcher trolled the Thorofare flats and ended up with 4 keeper flounder, measuring up to 21-inches (Katie's). Water temperature was 62-degrees and the bite was on the outgoing tide. Mike Johnston also caught some keeper flounder while slow trolling on the Thorofare flats. When it comes to trolling for flounder, those guys have it nailed!!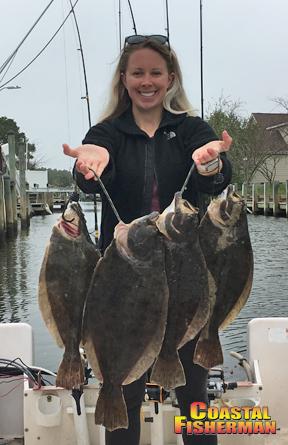 On a side note, Capt. Monty Hawkins on the headboat, "Morning Star" is looking for 2 deckhands. Experience would be nice, but is not necessary. Email Capt. Monty at capt.montyhawkins@gmail.com.
SATURDAY, April 13, 2019
I spoke to my foreign correspondent in Monmouth Beach, New Jersey, Capt. Ed Moro, who reported an incredible striper bite in all the waters in central Jersey. Capt. Ed said that anglers are catching fish out front along the beach and in the bays as well with fish ranging greatly in size.
FRIDAY, April 12, 2019
The best bite around OC continues to be up around the Rt. 90 Bridge. Today, Kern Ducote had a great day fishing in 54-degree water, ending up with 39 stripers hooked. Largest measured 29-inches.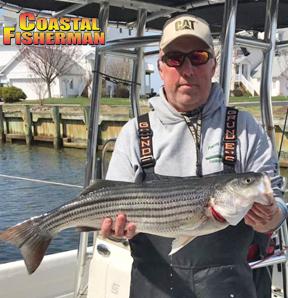 THURSDAY, April 11, 2019

Local boat, "The Chaser" is fishing in "Skip's White Marlin Round-up" and during the action on Day 1 of the tournament they captured a 129 lb. white marlin and currently sit in 5th place in the 3-day tournament.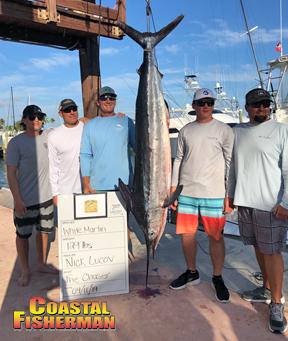 Small stripers are still snapping around the Rt. 90 Bridge. Fish are in the 20-24 inch range.
WEDNESDAY, April 10, 2019

Looks like the black drum are starting to bite along the beaches. Don Zaiser caught and released one while fishing in the afternoon with clams off 142nd Street. Photo courtesy of Fenwick Tackle.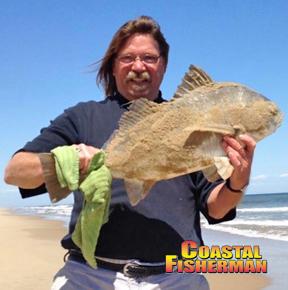 TUESDAY, April 9, 2019

The first black drum of the year was caught today by Allen Sklar while fishing off Assategue Island. Allen estimated the weigh of the fish at 25 lbs. Bill Powell also caught a black drum off Assateague.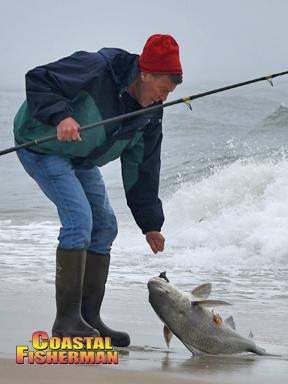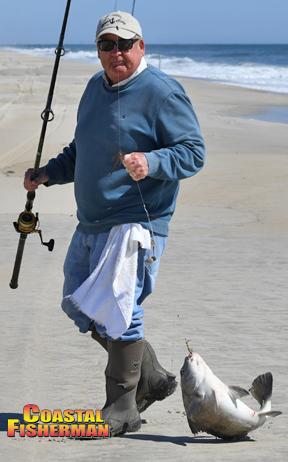 MONDAY, April 8, 2019
The State of Maryland just released their cobia regulations for 2019. The season is open from June 1st to September 30th. Recreational anglers can keep 1 cobiaper day or up to 3 cobia per vessel per day if there are 3 or more individuals on the vessel. Minimum size is 40-inches total length.
4:34 PM
- Big Bird Cropper called in to report that he and John Wittmeyer hit the South Jetty and caught a short striper. Good news was that the water temp was in the mid-40's. Better news was the water temp up at the Rt. 90 Bridge was 58-degrees during the outgoing tide and in the mid-50's in the Thorofare. Just an editorial comment... Big Bird is a great dude and goes out of this way to help anyone and everyone. It would be great if folks this season who see Big Bird on the water would put him on some action or give him the skinny on some intel. He really deserves it and it would be good kharma!!!
SUNDAY, April, 7, 2019

Hearing about some stripers being caught around the Rt. 90 Bridge. No biggies, but good action on light tackle. Coastal Fisherman correspondent, Ed Balcerzak reported some flounder biting north of the bridge off Hoopers.
Capt. Monty on the headboat, "Morning Star" reported slick calm conditions today with a bit of a swell. Anglers really had to work for their catches of tog. Mark Sun caught his limit and Pat Scida took largest fish honors with an 8 1/2 pounder.
Kern Ducote reported that he was flounder fishing yesterday in the Ocean City Inlet and East Channel, but had no luck. Water temp was a brisk 42-degrees. Went to the Rt. 90 Bridge and ended up catching and releasing 12 stripers. Water temp was between 45 and 48-degrees. Today, Kern headed back to the Rt. 90 Bridge and caught another 9 stripers. Biggest fish was 24-inches. Most measured between 28 and 20-inches..
SATURDAY, April 6, 2018

Anglers on the headboat, "Morning Star" dealt with a fog filled, swelly and windy morning but the tog were biting while the tide was running. Largest fish 2as 20 1/2-inches.
THURSDAY, April 4, 2019
There is a lot happening on the striped bass front with stock assessments coming in worse than expected. State is considering some major actions, including big changes to the trophy rockfish season on the Chesapeake Bay. Part of the problem, according to the Feds, is that the breeder population has declined greatly, so targeting the bigger fish during the famous Chesapeake Bay Trophy Rockfish Season may not seem like a good idea. At least right now. Check out the multiple articles listed in our Breaking News section and stay tuned for further developments.
Reports are coming in that the bays behind Ocean City are chock full of bunker and crabbing right now is much better than it was last year.
Kristen Lenox caught the first flounder of the year while fishing in 6-8 feet of water behind Assateague Island. Fish measured 16 3/4-inches and was hooked on a chartreause Deadly Double with a pearl white 4-inch Gulp Swimming Mullet.
FRIDAY, March 29, 2019
I received a report last night from Capt. Jason Mumford on the charter boat, "Lucky Break". Jason said that water temperature at the Assateague Bridge was 50-degrees yesterday. A lot of shiners in the water and birds were working. Half way down the bay behind Assateague, the water was 54-degrees.
SUNDAY, March 25, 2019
Sorry there haven't been any postings in a while. A lot going on that kept me away, but we are back at it, getting ready for the season opening issue on May 1st. If you have any pictures of catches since January 1st, make sure you email them over to coastalfisherman@comcast.net. Even pixs of "away from home" trips are always welcome in the early season issues.
Today, anglers on the headboat, "Morning Star" ventured out on a calm day with an OK bite. Largest tog was a 10 pounder. Good bite right away until the current quit and the next bite didn't occur for 2 hours. Once the current got up and running, the bite followed. Overall, a nice day.
SUNDAY, January 27, 2019
Capt. Monty Hawkins on the headboat, "Morning Star" reported "a nice pick" on tautog today. Not much current, but a lot of double digit fish were caught before the slack. Angles released 5 tog that weighed over 10 lbs. Largest fish was a 30 1/4-incher aht weighed 19 1/4 lbs.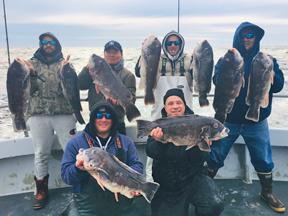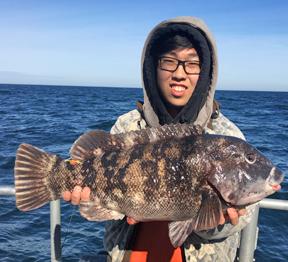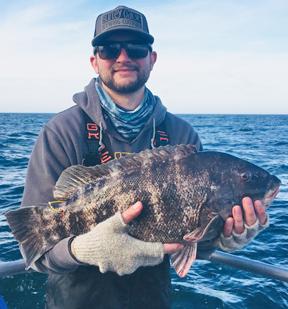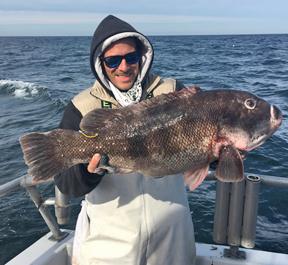 James Kim caught, tagged and released a 29 1/4-inch, 18.5 lb. tautog after hooking it with a white crab on an ocean wreck.
On a side note, today, via the "Morning Star", the Ocean City Reef Foundation dropped reef block #24,000. The recordsetting block was dropped at Capt. Jack Kaeufer's Memorial Reef. Congratulations to the Reef Foundation. To join (very inexpensively!) just go to their website at ocreefs.org.
SATURDAY, January 26, 2019
Capt. Monty on the headboat, "Morning Star" reported better fishing today, but caught a slack current at the end of the day. Before that, anglers caught some nice fish including the pool winner, Justin Leber who caught a 26-inch, 14.5 lb. tog.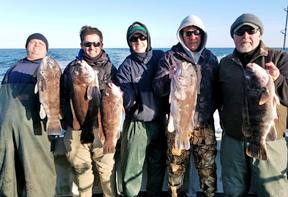 THURSDAY, January 17, 2019
Capt. Monty on the headboat "Morning Star" reported some decent tautog fishing today with a good percentage of fish measuring over 20-inches. No limits but a lot of nice fish. Steve Cohen took top fish honors with a 23 3/4-incher.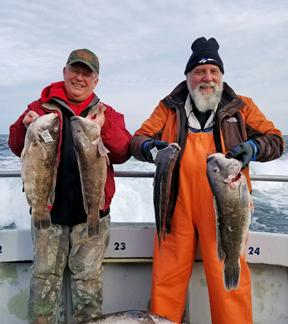 WEDNESDAY, January 16, 2019
Anglers on the headboat, "Morning Star" are still banging away at tautog on ocean structure. Capt. Monty said that the winds blew over 20 knots all day but some nice fish were still caught. Largest was a 20-incher caught by Bill Keefer.
SATURDAY, December 29, 2018
After putting in some long 12-hour sea bassing days, Capt. Monty went back to tog fishing (only 10 hours!) and the day was calmer than expected until around 2:30 when the wind switched to the north. Tog bite was not great. Three anglers caught their limit but decided to return the big females back to their comfort zone to build the population. Todays pool winner, Ben Strahl of Berlin, MD caught a 21 1/4-inch male tog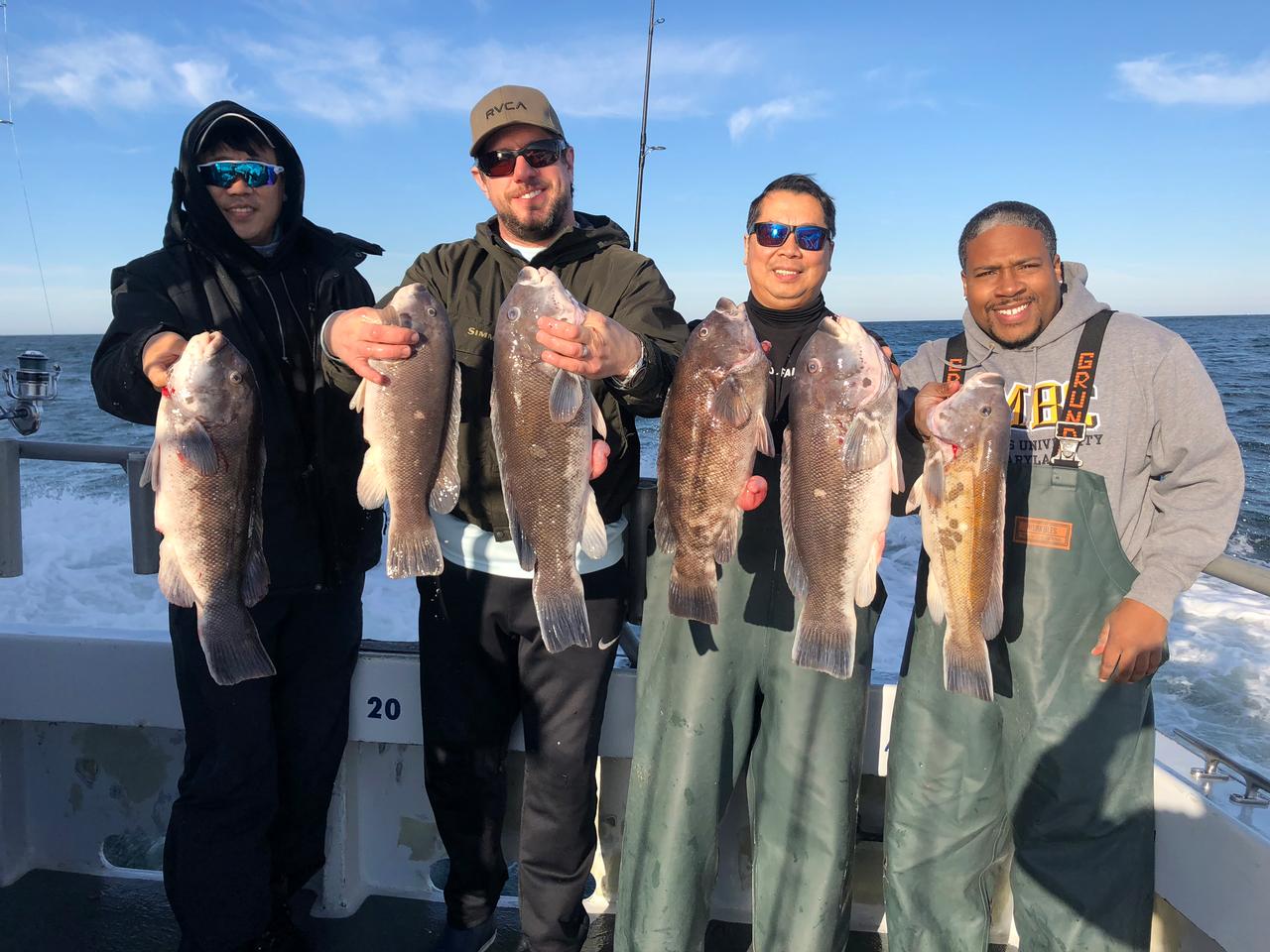 WEDNESDAY, December 26, 2018
Well, it looks like the dismal 2018 striper season continues. Boats went north and south today and the only fish I heard caught came on the "Fish Frenzi". Chuck Wenzel caught a 33-incher while trolling off Fenwick Island. Boats that went south saw nothing. All of the birds looked to be flying north. The good news is that water temps are still around 43-45 degrees, so there is still time left, PLUS they are still catching them off Jersey. Maybe we will be able to bail out the season in the next couple of weeks.
Capt. Month on the headboat, "Morning Star" reported a bluebird day offshore with winds never getting over 10 knots. They had one angler catch their limit of 15 sea bass today with several others reaching double digits. Largest was a 17.8-incher caught by Caleb McIntyre. Capt. Monty said that he has openings for tomorrows 10-hour sea bass trip.
THURSDAY, December 20, 2018

4:32 PM
- What a difference a day makes. Flat calm this morning allowed boats to get to their sea bass and tautog grounds. Capt. Monty on the headboat, "Morning Star" said that tog had lockjaw today and didn't cooperate. Largest was an 18 1/2-incher.
WEDNESDAY, December 19, 2018

Wow! Today was the day to jump on a local headboat or charter boat for some sea bass and tog fishing. Are you sitting down?
On the headboat, "Angler", everybody fishing for sea bass caught their limit in just a couple of hours. Numerous fish were in the 3 to 5 lb. range but NONE were larger than the 6.8 pounder caught by Justin Eddy of Ellicott City. That is a huge sea bass! Biggest one I have ever seen. A couple of years ago in January, we saw several 6 pounders caught but none that weighed 6.8 lbs. Fish were caught on clams on an offshore wreck. Even Super Mate, Rich Fouts caught a pair weighing 3 3/4 lbs. and 5 lbs.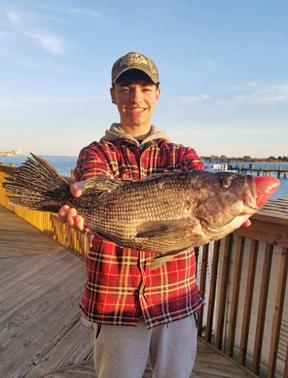 On the charter boat, "Fish Bound" , world record holder for tautog, Ken Westerfeld was at it again. Today he caught another potential world record when he caught a 17.4 pounder on 16 lb. test. Incredible!!! All of the anglers fishing on the "Fish Bound" had a good day. The anglers caught a boat limit including 6 over 10 lbs.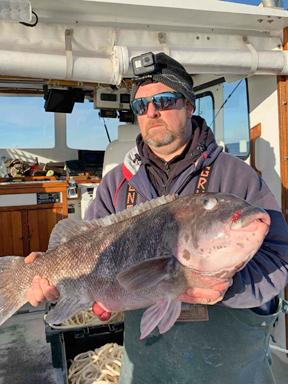 On the headboat, "Morning Star", the entire crew and anglers caught their limit of sea bass. They took a long run off the beach, but it was worth it. Poor winner caught a 21-incher.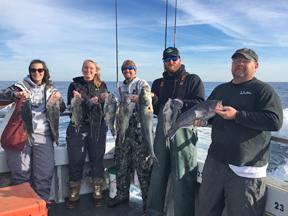 On the striped bass front, inside of the lovely 3-mile line was dead. There was some bird action down towards the Sliver, but more birds were seen diving 4 miles off the beach at 28th Street. The man as out there making sure nobody was fishing for stripers under the birds. Water temperature on the 3-mile line this morning was a little over 43-degrees, which is worrisome. It was a couple of degrees warmer a little further south.
There could be a chance to get some fishing in early tomorrow, but starting tomorrow night through 6pm on Saturday there is a small craft warning. Winds early on Friday will be between 17 and 24 mph.
TUESDAY, December 18, 2018

It looks like some stripers have moved inside the 3-mile line. Pete Renzi on the "Fish Frenzi" caught a pair while trolling at Little Gull Shoal. Fish were in the mid-30 inch range.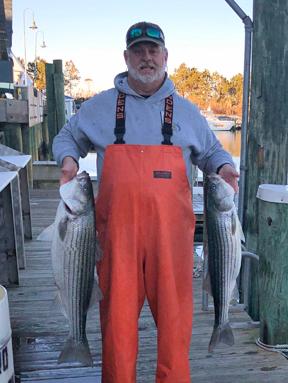 If the fish are at Little Gull, then there is a good chance they are north along the line. Banana Lump and off Sea Colony would be good bets.
FRIDAY, December 14, 2018

The striper bite along the coast is hit-or-miss. The fish are pretty scattered. Sounds like the best action was up towards the mouth of the Indian River Inlet although a few fish were caught inside 3-miles off the condos in North Ocean City.
THURSDAY, December 13, 2918

There hasn't been much to report lately. Anglers fishing inside 3-miles have been frustrated with the lack of stripers. Water temp has dropped down into the mid-40's, so that is concerning. Boats heading in from offshore sea bass and tautog fishing have run across big schools of stripers 10 miles off the beach.
Yesterday, a lot of stripers were caught off the Wildwood, NJ coast.
SUNDAY, December 9, 2018

Well, it looks like we may have a striper season afterall. A few stripers were caught late in the week and into Saturday. Sunday was a little sporty, keeping most at the dock. Most of the fish were caught up off of Sea Colony and down to the Pyramid. The class of fish looked like in the 32-inch range but a few big girls were hooked also. Water temperature dropped a couple of degrees but is still in the upper-40's. Still plenty of room. "Here at 50... Gone at 40".
** I HAVEN'T YET DECIDED ON THE COVER SHOT FOR THE WINTER ISSUE! We go to press in 2 weeks, so if you get a BIG fish send in the picture right away!!! THE COVER SHOT COULD BE YOU!
Some nice size stripers were also caught by anglers fishing out of Lewes who made the run to the Jersey coast off Wildwood. Joe Huk caught a a 46-incher that weighed 38 lbs. Most reports coming in from those who ventured up to Jersey said that the majority of fish were in the 32-inch range.
Stripers were also caught at The 8's in the Delaware Bay.
Deb Grierson caught a 32.5-inch striper off the point at Cape Henlopen. Fish weighed 11.5 lbs.
Ocean structure is giving up some good size tautog. White leggers were the bait of choice. Have seen quite a few in the 8-9 lb. class.
SATURDAY, December 8, 2018
Capt. Monty Hawkins on the headboat, "Morning Star" took a long trip out of Ocean City in search of sea bass that are really moving offshore now. Smaller sea bass are lagging behind. A few anglers had double digit catches of knotheads and 1 angler limited out. The largest was a fat 16.6-incher.
FRIDAY, December 7, 2018

On the headboat, "Morning Star", Capt. Monty took his anglers out for the first dedicated tautog trip since spring. The bite wasn't bad. Anglers hooked a lot of small fish. Most anglers had a couple of keeprs but were kept very busy with a lot of throwbacks. John Sadowski won the pool with a 22-incher.
THURSDAY, December 6, 2018

Still no stripers to report. Water temp is down under 46-degrees. Starting to get worried!
Capt. Monty on the headboat, "Morning Star" didn't have fond thoughts about the weatherman when they reported winds to be 10-15 mph and they were more like 15 to 25 mph! But the fish were snapping!!! Had tog mixed in with sea bass. Gerald Meadows as high hook with 13 nice sea bass and a 21-inch tog. Terry Burgess took the sea bass pool with a 19-inch knothead that outweighed Mike Ransig's 19-incher.
Capt. Monty will be running special 10-hour trips on Saturday and next Wednesday (12/12). Even though you have plenty of room to fish on the "Morning Star", Capt. Monty cuts 5 spots off the rail on these special trips to give anglers even more room. He is also doing some inshore tog trips on Friday (12/7) and Sunday (12/9). Rail is limited to the first 12 anglers who register.
TUESDAY, December 4, 2018
1:19 PM
- The Ocean City Marlin Club Rockfish Tournament has been cancelled!
2:15 PM
- Capt. Nick Clemente on the charter boat, "Get Sum" reported good number of birds diving off the OC coast. He was able to get under the birds and marked good size schools of bait but didn't have any pulls.
MONDAY, December 3, 2018

First off, the headboat, "Judith M" is looking for part-time captains for its evening cruise and for daily fishing trips. A 50-ton Master License is required. If interested, call 410-430-8420.
The 7th Annual Ocean City Marlin Club Rockfish Tournament begins this Saturday and runs for 9-days, ending on December 15th. Registration is this Friday (12/06) at 6:00 PM at the Club.
The striper bite is slow developing. I heard they were caught late last week off Cape May, but over the dreaded and unnecessary 3-mile line. Anglers are starting to find balls of bunker and sand eels inside the 3-mile line off our coast. Bluefish are out on the 1st and 2nd Lumps.
4:05 PM - No striper bite today in the ocean. Water was very dirty. Reports came in that chartreuse mojos were disappearing only 5-feet underwater.
Anglers on the headboat, "Morning Star" had sea bass thick, 30-feet under the boat, but the bite was weak. Very poor on jigs... better on bait. today, Tim Calmer caught an 18-inch sea bass, the largest of the trip. Capt. Monty has 10-hour trips planned for Thursday, Friday and Saturday.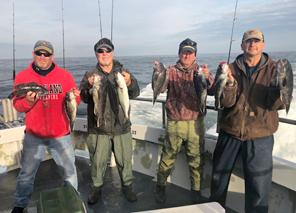 SUNDAY, December 2, 2018

It was pretty "saucy" in the ocean today but that didn't keep anglers fishing on the headboat, "Morning Star" from returning with some limits of black sea bass. The largest measured 18 1/2-inches and was caught by Brett Selby.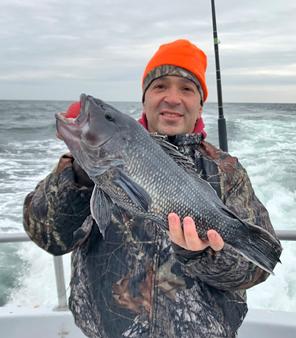 John Wooldridge and his son Grayson hit the Rt. 90 Bridge for some striper fishing and today was a good day. Little Grayson caught and released 5 stripers that were hooked while trollong umbrella rigs. Water was a little dirty and a brisk 46-degrees. John reported that some of the stripers had sea lice on them.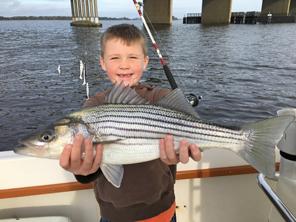 SATURDAY, December 1, 2018

Anglers on the headboat, "Morning Star" took one of their popular 12-hour trips today, giving Capt. Monty the ability to venture out further than normal. Anglers caught a variety of fish, including scup, triggerfish, cunner, pollock, tautog, bluefish and spiny dogs. A few guys limited out on sea bass. Gary Giordano's 22-incher was the largest sea bass of the trip.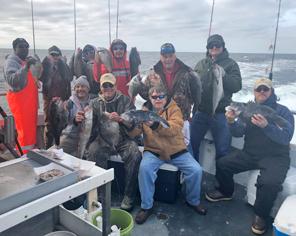 SUNDAY, November 25, 2018
Capt. Monty on the headboat, "Morning Star" said the seas were sporty early today. When he anchored it was 26 knots out of the northwest. By the end of the day it was down to 12 knots. It was really nice when they got 15 miles off the beach. It was all worth it with a lot of anglers catching their limit of sea bass and some blue fish limits as well. Spiny dogfish were not as thick as they were further inshore. Largest sea bass measured 18 1/2-inches.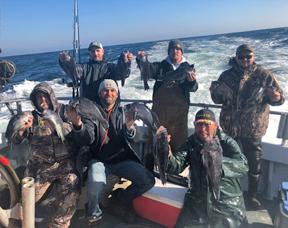 Sounds like you need to head further east than normal to get in on a sea bass bite due to very thick schools of dogfish sharks.
There were some stripers caught at the 8's inside the Delaware Bay. The ones that you could keep were big, up to 48-inches, but many were in the slot. More and more are showing up everyday. Still, the bulk are off North Jersey and between Atlantic City and Cape May. I did hear that some wreckfishing boats ran across schools at the 1st and 2nd Lumps.
SATURDAY, November 24, 2018
With ocean temps hovering around 52-degrees only 10 miles off the coast, we are starting to get close to the arrival of stripers. I always say... here at 50 and gone at 40. Should be some bluefish around right now. I would check the 10-mile line. Also, Fenwick and Isle of Wight Shoals are familiar haunts.
FRIDAY, November 23, 2018

On the headboat, "Morning Star" there were several limits of sea bass around therail. Had to fight through the spiny dogfish to get it done. Pool winter was Mike Marcus with a 19 1/2 inch sea bass.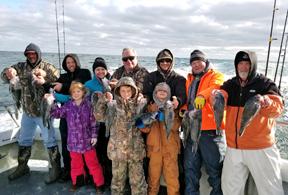 WEDNESDAY, November 21, 2018
Capt. Monty on the headboat, "Morning Star" reported an "awesome bite" today. His anglers had a "super-limit" with limits for everyone around the rail. Largest sea bass was a 21 1/2-incher. There was also a 27-inch bluefish caught by George Bell. All of this action was early before they had to head home due to increasing winds.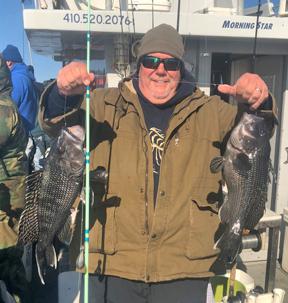 After fishing on Monday and Wednesday, anglers on the charter boat, "Reel Chaos" went 12 for 21 on swordfish in addition to catching a 66-inch bigeye tuna estimted at 200 lbs. Their largest swordfish was 82-inches and was estimated to weigh between 300 and 325 lbs. All of the fish were caught in 1,000 to 1,600 feet of water in the Baltimore Canyon.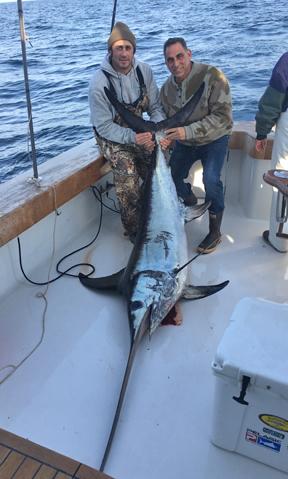 TUESDAY, November 20, 2018
9:37 AM - Updated yesterdays report.
On Sunday aboard the "Magic Moment", Jim Bugg, Richard Hutchison, Mark hutchison, Tim Talbot and Brendon Barbey headed out to the 800/800 and caught 3 yellowfins, weighing up to 40 lbs., while trolling ballyhoo. They then deep dropped an eel in 1,500 feet of water and caught a 103 lb. bigeye on the first drop and a small swordfish on the second drop that they ended up releasing. Water temp was 64-degrees.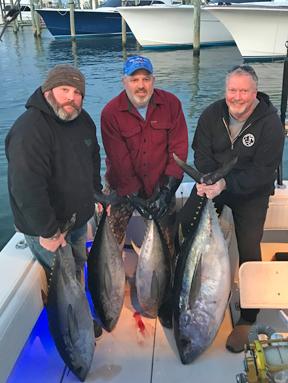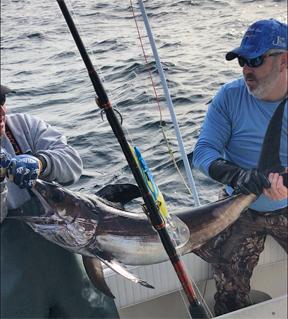 MONDAY, Nove